Dessert cafés have been springing up all over the island in order to meet the seemingly incessant demand for places where people can sit and chat over an after-dinner sweet or coffee. You know the sort of place I'm talking about – often possessing somewhat sleek contemporary furnishing, with a long glass shelf displaying cylindrical shaped chocolate confectioneries and macarons. In my memory it started with Baker's Inn (or "Bakerzin" as it is known now) in the late 90s, followed by a host of others such as Choupinette, The Chocolate Factory, Canele and Macaron. Amongst the players competing for a slice of the proverbial pie is Ricciotti.
Located at The Riverwalk in between Boat Quay and Clarke Quay, the 3 year old Ricciotti is the Garibaldi group's youngest member and has garnered quite a following. The restaurant boasts of a fairly sizeable outdoor seating area of about 70 with a view of a portion of the Singapore River. Al-fresco dining here is not unpleasant in the evenings due to the night breeze, and the ambience while not particularly outstanding, is casual and fairly relaxed.
For better or worse Ricciotti does not deviate too far from the "Bakerzin" model of cafés. The menu consists of a section of generically Italian savouries and mains, with the true emphasis lying in the desserts and beverages section. The café prides itself in being a gourmet pasticceria serving the widest variety of authentic Italian cakes and pastries in Singapore as well as being Sicilian style gelateria.
Incertitudes about its claims to authenticity aside, this is one place which serves formidable chocolate – according to the staff Ricciotti use the Belgian brand
Fabbri
, and the quality of the ingredient is evident in the taste and complex aroma. This is most strongly manifested in the hot Torino chocolate as well as a confectionery called the Morbida.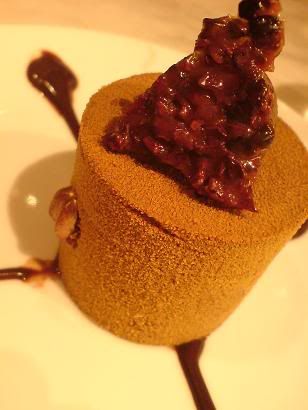 By all appearances the Morbida looks like yet another chocolate mousse dessert, cylindrical in shape and dense in texture. However within its innocuous façade is a chocolate medallion that, once broken, unleashes from within a flood of coffee infused liquid chocolate - the visual impact of which is sure to elicit "oohs" and "ahhs" from unsuspecting diners. The design of this confectionery is cleverly structured such that its appeal changes over different stages of its eating. First you get to savour the intensely flavoured chocolate mousse plain and unadorned. Then with the bitter coffee chocolate liquid which adds another level of complexity, and at the end you consume the outer shell of the chocolate medallion with the mousse – pure brilliance!
Over several visits I have tried almost all of the other confectionery offerings and unfortunately none of them gave as much pleasure as the Morbida does. Some of them were good and others not so spectacular. For example, the Profiteroles here are nice enough here – 3 balls of fudge coated choux pastry balls each filled with a different flavour of custard cream, placed in a chocolate shell. On the other hand the Soffiato – a.k.a. warm chocolate lava cake – failed to ooze liquid chocolate and just tasted like a small chocolate brownie without nuts. Perhaps a bad day for the chef? The Crostata, traditionally a rustic pie of baked fruit, is basically a raspberry tart here. The tart crust was a letdown too, carrying the raw taste of flour and tasting like a Kong Guan chocolate biscuit left outside for too long.
The café's namesake – Ricciotti – comprised of a ball of sweet cheese and cooked apple slices encased within a cylinder of saffron jelly. It is reminiscent of a cheesecake of sorts, with the jelly providing a slight fermented taste which added an interesting aspect. Not bad in terms of originality but nothing to rave about either.
Clockwise from top left: Ricciotti, an unnamed seasonal dessert, Crostata, Soffiato

Despite some hits and misses, what really makes Ricciotti so popular and worth visiting is the 50% discount on the confectioneries after 9pm. Given that most of the handmade desserts are originally priced about 6 to 7 dollars, it means extremely good value for the quality you are getting. As a benchmark for comparison, I don't think it is possible to get a decent tiramisu for the price of a bit more than 3 dollars anywhere else in Singapore. Moreover, unlike its sister outlet Menotti, Ricciotti does serve iced water. It is irksome that some places are suffering from the delusion that they are fine dining, and hence require you to pay for Aqua Panna or San Pellegrino if you want water. Not much can be said service-wise for it is the standard of most other restaurants in Singapore - not exactly wonderful service, but nothing to be complaining about.

All in all, Ricciotti excels in satisfying the niche of value-seeking dessert lovers. The casual no frills atmosphere is ideal for an after dinner chat with a group of friends, and really, going in a group is probably the best way to sample their variety of sweets. (that is, if you believe in sharing dessert!)
The Riverwalk area where Ricciotti is located at.
RICCIOTTI ITALIAN DELI AND PASTRY
The Riverwalk
20 Upper Circular Road
B1-49/50
Singapore 058416
Tel: 6533 9060
3 Pickering Street
China Square Central
01-36/37
Nankin Row
Singapore 048660
Tel: 6438 8040

*Special thanks to Sheng Tao for the photographs of the Ricciotti shopfront.